About Us
V. Dhakshinamoorthy

is a good-hearted man from a simple family, born and raised in the villages surrounding Arunachala Hill in Tiruvannamalai. He currently lives with his wife and three children in MGR Nagar, Samuthiram Village, where he runs Sathya's Cafe, a local gathering place for Indians and Westerners. He previously worked at Shanthimalai Trust for 10 years as a village development worker. This experience sparked in him a strong desire to do further hands-on work for the poor, but for a long time he felt limited by his individual resources. Dhakshinamoorthy's compassion extends to all people suffering in the villages, and he feels a special affinity for the elderly. His wish is for

Quality of Life

Trust to "help all people live happily until the end of their days."

S. Ramesh

is a local young man with strong social inclinations who enjoys participating in social work projects in the villages when he is not at Annamalai University studying for his masters in biochemistry. Some years ago, seeing that disadvantaged children from poor families had very few educational opportunities, Ramesh started working as an English and science teacher for HeartKids orphanage. Also during that time, he managed a guesthouse in Samuthiram village, where he helped Westerners with their accommodation needs and facilitated their understanding of Indian culture and the local way of life. After developing a good relationship with V. Dhakshinamoorthy in the village, they realized they had a common goal and Ramesh joined

Quality of Life

Trust.

D. Lakshmi

was born and raised in MGR Nagar, Samuthiram Village, where she currently runs Sathya's Cafe with her husband, V. Dhakshinamoorthy. In the past, Lakshmi worked at Shanthimalai Trust for 9 years -- 4 years in the Tailoring Department, and 5 years as a social worker in the Health Department. While distributing food and providing first aid and medical support for poor people in over 20 villages, Lakshmi came in close contact with the struggles villagers face regarding hygiene, sanitation, and health. Having grown up in extreme poverty herself, she knows it well! She decided to join

Quality of Life

Trust "in order to help the poor."
SPECIAL THANKS to our generous helping hands: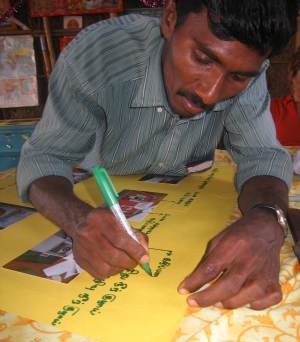 Rajkumar (field work/mason)